Happy Hump Day! I'm busy baking muffins this week for the book and they have turned out amazing. I can't wait to share them with you. Be sure to follow me on Facebook and Twitter to see some of the photos I have taken of recipes I am including in the cookbook. It's still months and months away before you can get your pretty little hands on it but I promise it will be worth the wait. I appreciate your readership and I am so happy you are sticking around the Bakehouse while I'm away. I have been thrilled with all of my lovely Guest Bloggers that have stepped up to give me a hand in the Blogesphere. I love them and I know you will too.
Gina From Kleinworth & Co. is my guest blogger today. Her recipe for Truffle Brownies sounds like a chocolate lovers dream. Please be sure to give her are warm welcome and hop on over to her amazing blog where she shares a little bit of everything. Her talent and creativity is amazing. Thank you for contributing today Gina!
Guest Blogger/Truffle Brownies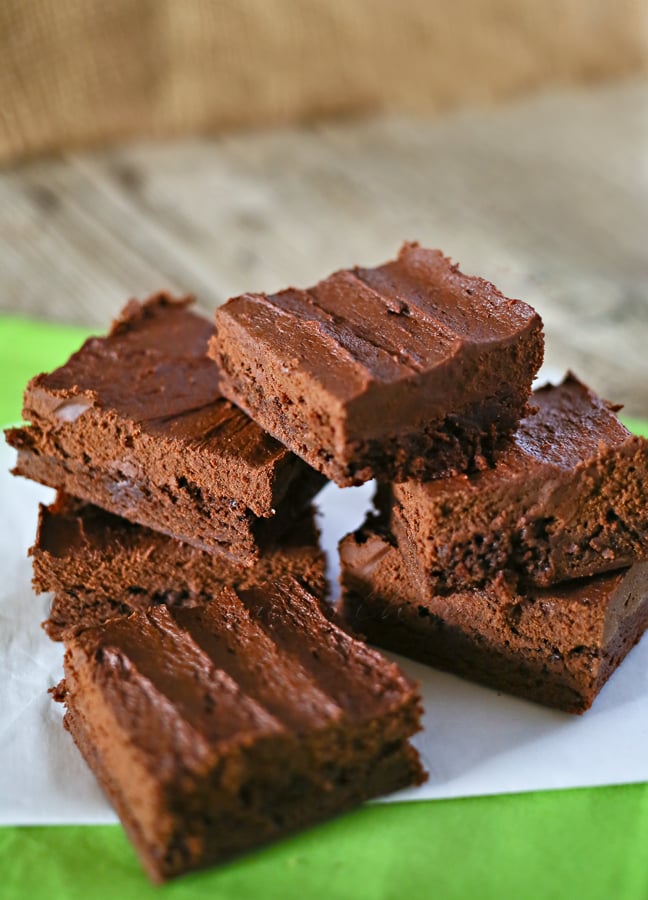 Hi Buttercream Bakehouse readers! I'm Gina from Kleinworth & Co. where I share favorite family recipes, projects with my kids, photography tips & a little bit of family life.
I'm so excited to be here today sharing a decadent little goodie that is always a hit.
I am one of those that likes a fudgy brownie. I know brownie lovers throughout the world usually fall in one of two camps- fudge like brownies or cake like brownies. I'm in the fudge camp- the gooey-er the better for me. AND when it comes to my treats – more is more for me as well. I like to push the envelope & top with a little extra to make it better. So this time I decided to take my favorite truffle recipe & top it on my brownies for an extra rich & yummy Truffle Brownies dessert.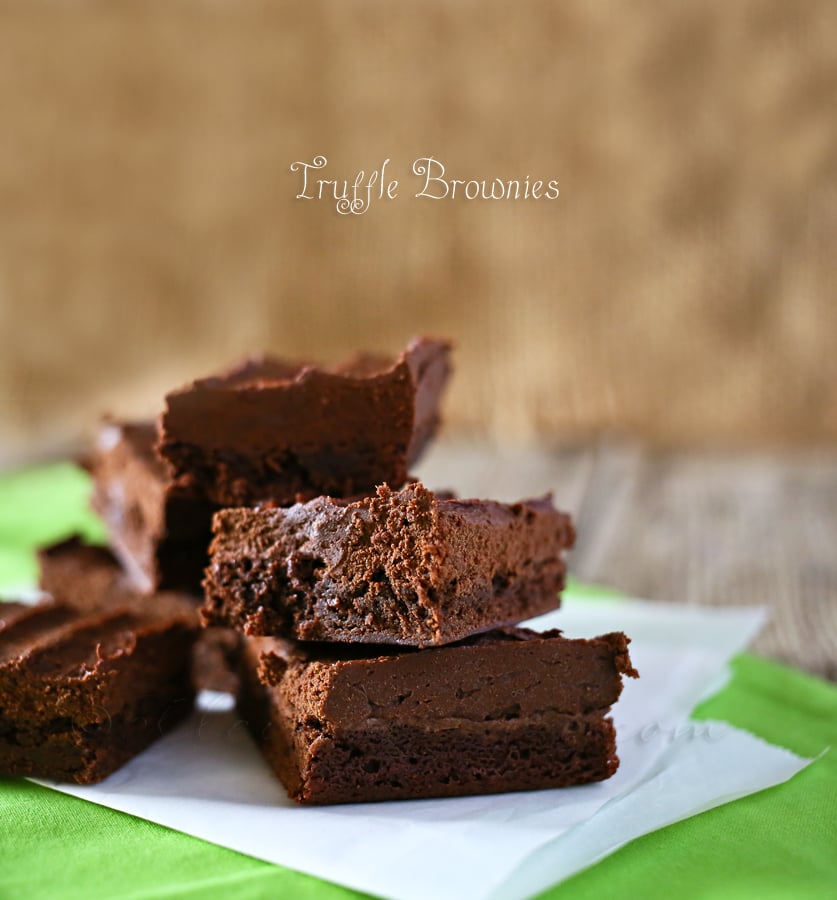 I sent most of these to the firehouse with the hubs. His guys had them gone in record time.
Truffle Brownies
Ingredients
1/2 cup semi-sweet chocolate chips
1/2 cup butter
2 eggs
1/2 cup granulated sugar
1/2 cup all-purpose flour
2 tbsp dutch process cocoa powder

Truffle Topping
2 cups semi-sweet chocolate chips
1 pkg (8 ounces) cream cheese – room temperature
Directions
Preheat oven to 350 degrees
In a large bowl – whisk together the eggs & sugar
Add in flour & cocoa powder – whisk until mostly combined
In separate bowl combine butter & chocolate chips & microwave for 30-60 seconds until butter is melted.
Whisk butter & chocolate mixture until combined & smooth
Add to large bowl & mix well
Transfer to parchment lined 9×9 pan
Bake about 25 minutes or until the top is set & shiny
Remove & allow to cool while you make the truffle topping.
For the truffle topping-
Place your cream cheese in mixer bowl & beat until creamy
In double boiler- melt your chocolate chips
Slowly add your melted chocolate to your cream cheese & beat until completely combined- scrape down bowl frequently
Once thoroughly mixed- transfer to top of brownies & spread into an even layer
Place in refrigerator to completely cool before cutting.
Store in airtight container in refrigerator
That's it – so simple & AMAZING!!
Want more recipes??
You can connect with Gina via Blog, Twitter, Google+, Instagram & Pinterest
About: Gina is a mom to 3, wife to a fire chief, photographer & homeschooler. Within the last year she relocated with her family to Northern Idaho after 12 long years living in various parts of the Nevada desert. Gina is a Southern California beach native with a passion for food photography, blogging, baking & getting crafty with re-purposing & up-cycling on a budget.