If you have a child with an October Birthday there is still time to plan a candy corn themed party. With an easy to work with color scheme of white,orange and yellow and a printable birthday banner included below, you can throw a last-minute bash that's creative, fun and whimsical. And with the real deal handy on just about any shelf this time of year, you can make candy corns part of your cake, party favors, treats and centerpieces for an edible and decorative feature. I am especially in love with the candy corn cake (below) with beautiful piping and three layers of candy corn colors to match your theme. If you are in love with these ideas and are planning an October Birthday then you might want to start pinning girlfriend! You can pin the pictures in this post by hovering over any picture on the top right corner until you see the PIN It button. These ideas are too cute to lose track of!
One more thing…It's Share the Love Sunday! Time to feature YOU and your latest blog post. Link up and share the love with our readers and don't forget to let your bloggy friends know about the Linky Party. A large party will increase the traffic to your blog and will inspire many readers to be creative just like you. Sharing the love is a great way to start off your Sunday. But first, let's dig into this Candy Corn party theme…
Candy Corn Birthday Party
Kara's Party ideas shares a bright and happy candy corn bash fit for a king or queen. Just look at all those details and handmade decorations.
Dimple Prints was kind enough to make a printable for this cute shindig. I love the cupcakes!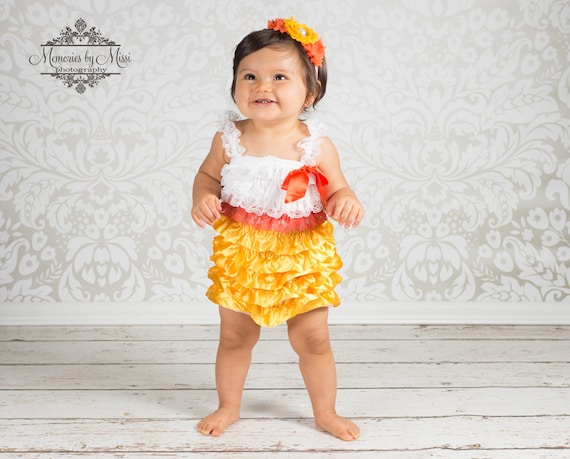 HappyBOWtique is killing me with cuteness. This picture makes me want to have another baby JUST to put her in this adorable candy corn outfit.
Food Family Finds shares an easy to make treat that would be a great alternative to cake.
A fun party favor…candy corn treat bag stuffed with, you guessed it, candy corn! Tutorial by HGTV.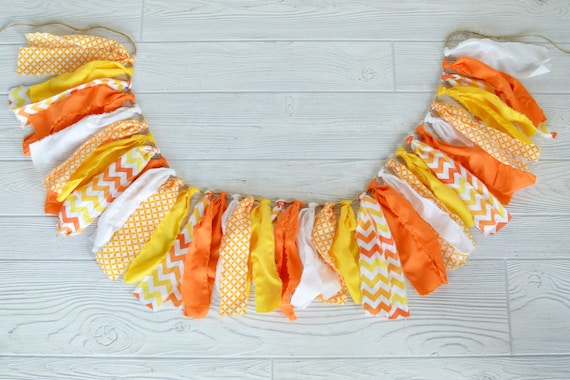 Shabby Chic Candy Corn Bunting…add to dessert table, mantle or with Birthday sign. Purchase at the Pickled Peanut
I am baker has a great tutorial (with recipes included) on how to make a beautifully piped candy corn cake.
source unknown- How easy and clever is this centerpiece? Add candy corn to a jar or large vase and stick fresh flowers inside.
LizzyJane Baby makes a cute party (or wedding) favor with popcorn colored with candy melts. Tutorial and printable tags included in post!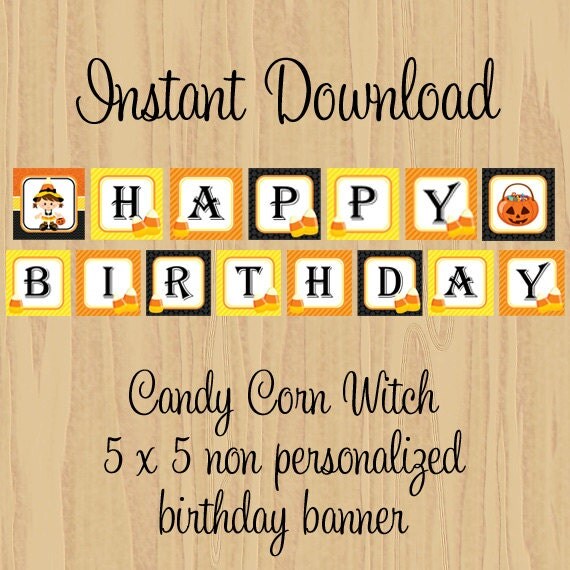 You can't do without this personalized Birthday Banner for a Candy Corn Birthday Party. Serendipity Printable has you covered.
Linky Party!
Now it's time for our "Share the Love Sunday" Linky Party. Please Grab this badge and add it to your blog roll. Codes for Buttons in sidebar.
If you were a featured blogger from last week's linky Party, Congratulations! Please grab our badge of honor to display proudly on your blog
Featured Blogger!
Be sure to stop by this fabulous Blog and say hello.
Feeding Big is one to watch. Check out the blog and leave a comment to tell them how great they are. Love this Cake ball idea!