Baby it's cold outside! What better way to embrace the chilly months of Winter than to throw a Snowman party?  It's a great theme to go with for a child's Winter Birthday or to celebrate the chill in the air. ( I throw parties because the sky is blue, so to me any theme for a party is valid ).  There are so many creative things you can do to inspire a Frosty flare to your party and I found some pretty great blogs and websites that did just that.  Check out the white pom poms hanging from the ceiling by fishing string for an instant indoor snowfall.  Or, how about crafting a wooden block snowman for a snazzy centerpiece.  I love Winter and all the cuteness of these party ideas.  We are still waiting for snow here in Virginia but I am begging for it now.  Praying to the Snow Angels to please … Let it snow, let it snow, let it snow!
Have you checked out Gingersnap Crafts yet?  Follow, Pin and subscribe today.  This blog is the bomb!
And the Queen of cake pops strikes again with the worlds cutest Snowmen Pops. Tutorial found on Bakerella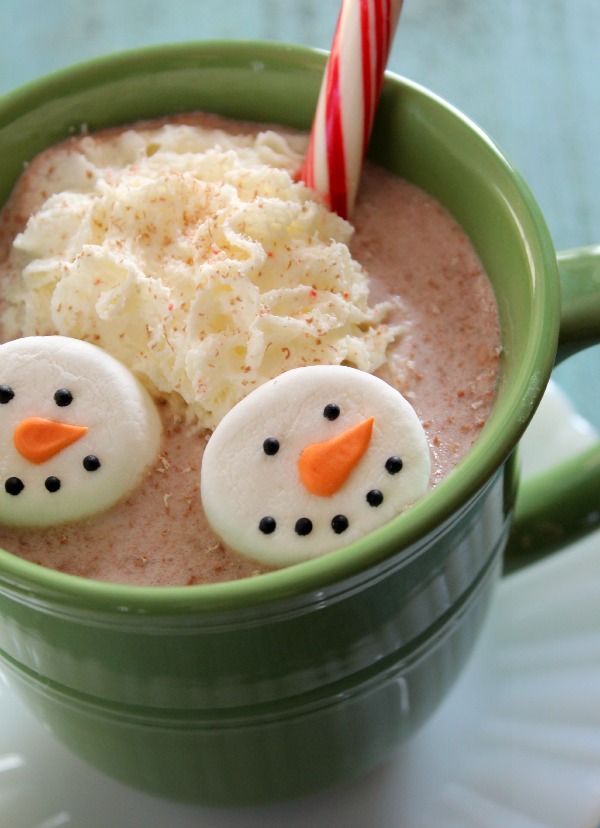 Sweet Sugarbelle knows how to keep your guests warm with cute little Marshmallow buddies floating in hot cocoa.
My favorite go to site for all things creative….Better Homes and Gardens  My favorite is the icy cold punch bowl.  Too cute for words.
Amanda's Parties to go shares a festive styrofoam Snowman centerpiece.  Why didn't I think of that???
Hostess with the Mostess is another great resource for creative parties.  Love this melted snowman drinks idea.  How easy,  creative and inexpensive.  Love to pieces.
Creative Kid Snacks grabs a sharpee and plastic cups for an cheap Frosty treat that's crunchy too.
Store bought items to dress up donuts.  Snowman deliciousness found at  A Thrifty Mom.


Setting the mood really does just that for this Snowman party.  How can an indoor snowfall NOT set the mood for a Snowman Party?  Hey, mini marshmallow would work great too.  This is such a great idea.
Snowman Soup?  No, really…this is too much.  Too much cuteness, too much creativity.  I MUST have this at my Snowman party.  Snowman soup A.K.A  Hot cocoa in a jar.  I'm dying over here.  The cuteness is killing me. Stop it!  Love, Celebrations at home
Too cute to pass up.  I'm on this right now.  Love. Love. Love.