Throwing a New Year's party is the perfect way to celebrate your blessings of a year well lived and the excitement of what the coming year will bring.  It's a time to surround yourself with all the things and people  you love.  In my world that is my friends, family and good food and drinks.  I bet you would agree that a good party needs at least two of those elements.  Throw in some inexpensive champagne and decorations and you've got yourself a memory to cherish forever, a photo opp and a lot of happy guests.  Setting the scene doesn't have to be tricky.  All you need is inspiration and a go to blog (like mine…wink wink) to get your creative juices flowing.  If you are feeling particularly creative and wanting to impress, try some of the ideas below to create an ambiance that will get everyone in the mood to party like it's 1999 2012.  Oh, and there are a few recipe links too, so be sure to check those out if you plan to whip up a few of your own desserts and appetizers.  I can't wait to try them myself.  That Champagne cake has my name written all over it.

This vintage inspired party idea was originally designed for a Holiday party but I think it would be fitting for a New Year's Eve party because of the elegance and of course the huge clock on the wall helps too.  This was designed by Pen and Paper Flowers
Get the recipe and directions on how to make sparkly Champagne Cake Pops from sweetapolita
Get FREE gold and silver party printables from Love the Day to add interest and detail to your desserts and drinks.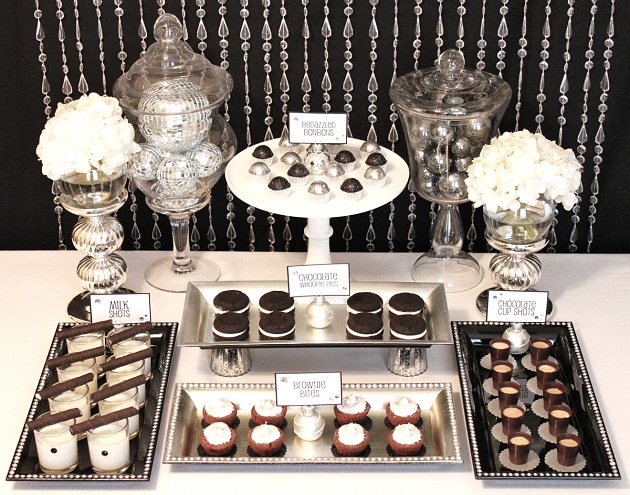 Ring in the New Year with a black and white dessert table like Celebrations at home did.  There are so many easy choices for desserts that are black and white (chocolate and vanilla) that this theme would be a cinch to pull off. Tons more ideas on this wonderful blog.  Go check it out.
The Berry gives a great idea for making jello shots.  The recipe is not included in the blog but if you have ever made jello shots, you get the idea. Replace the water for jello jigglers with your favorite champagne.
Don't forget about the kids.  Make it special for them and give them a mock champagne toast complete with a cookie on top.  From Style me pretty
I can't believe I haven't thought of this myself.  How cute is this New Year's Eve tree created by our best bites.  Have the kids pop the balloons at midnight and use the blowers and hats on the tree to celebrate.
Stir up this yummy Pomegranate and Lime White Wine Spritzer for your guests.  Don't forget to point out to them that it's totally festive considering it's red and green.  It's the little things. From Nutmeg Nanny
Pillsbury has a tons of easy apps to consider serving your hungry guests. Most are semi homemade making them easy to whip up in a flash.
Create a simple and inexpensive sparkly centerpiece for your New Years Eve Dinner with
Martha Stewart

Raspberri Cupcakes has read my mind.  This is the perfect cake to make for New Year's because it's made with champagne (my weakness).  Top it off with chocolate covered strawberries for an elegant touch.  I'm Smitten!!!
From my family to yours, have a safe and a Happy, Happy New Year!!